Pastor Robert Jeffress has warned that Christians in the U.S. would be under siege if the Democrats got into power in 2020.
Jeffress heads the 13,000-member First Baptist Dallas church and is a vehement loyalist of President Donald Trump.
He told the conservative radio program The Todd Starnes Show that Trump has shown that he was a defender of Christians' interests through his opposition to abortion and support of Israel.
"The reason they (Christians) support the president is not because they are religious hypocrites or because they think he is perfect—they know he is not perfect, just like none of us is perfect— but they appreciate the strong religious stance he takes.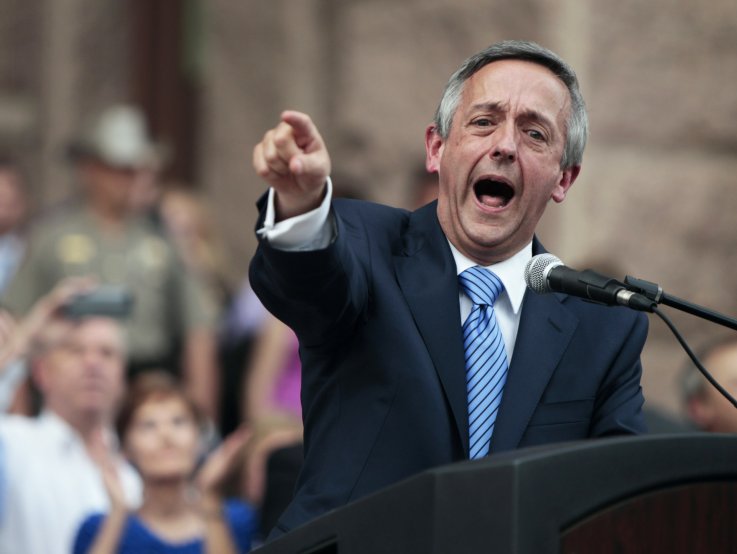 "He is without doubt the most pro-life, pro religious liberty, pro-Israel…president we have ever had and they don't want to see this warrior removed from his place of leadership in our country.
"There is a fear that if the left ever regain control again, this country is finished," he added.
Jeffress said that Democrats were trying to impeach Trump because they "couldn't beat him at the ballot box" and he also mocked House Speaker Nancy Pelosi for her call on Saturday for a "prayerful" approach to the process.
"I heard this sanctimonious Nancy Pelosi calling for prayer for our country. That reminds me of an arsonist, a pyromaniac with a match in his hand about to set a building on fire saying pray with me that the destruction I'm about to cause isn't too severe.
"If Nancy Pelosi is sincere about bringing this nation together, she will drop this impeachment effort, let the American people decide from now at the ballot box. "
Trump enjoys considerable support among Christians and a survey earlier this year showed that 67 percent of white evangelicals, 52 percent of white Protestants and 56 percent of Catholics backed his proposal to build a wall on the southern border.
Abortion is expected to be a key battleground for the 2020 election. On Tuesday a federal judge blocked Georgia's ban on abortions taking effect next year, which had been signed in May, CNN reported.
Jeffress said that pro-life Christians had a champion in Trump and that the Democrats would "undo everything this president has done and think about what he has done in the pro-life area."
"Apparently the god they worship is the pagan god of the Old Testament Moloch, who allowed for child sacrifice.
"The god of the Bible doesn't sanction the killing of millions and millions of children in the womb, I think the god they are worshipping is the god of their own imagination."
Jeffress serves on Trump's Evangelical Advisory Board and the White House Faith Initiative and is known for his inflammatory comments.
Last month, he disparaged the teenage climate change activist Greta Thunberg, saying on the same radio program that the next time she worries about global warming, she should "look at a rainbow" because it was "God's promise that the polar ice caps aren't going to melt and flood the world again."