The Taliban said more U.S. troops would die in the wake of President Donald Trump canceling a secret Camp David meeting with the militant group to end America's longest war. Monday morning, an American Special Forces soldier was killed in Afghanistan.
U.S. Army Sergeant First Class Jeremy W. Griffin, 41, of Greenbrier, Tennessee, was killed in action by small arms fire while on an operation in the Sayyidabad District of Wardak province, located in the central and eastern regions of Afghanistan. A Pentagon source told Newsweek on condition of anonymity on Monday he died during surgery while doctors attempted to save his life.
"The loss of Sgt. 1st Class Griffin is felt across the 1st Special Forces Group (Airborne) Family and the entire Special Forces community," said Army Colonel Owen G. Ray, who commands 1st Special Forces Group (Airborne). "He was a warrior – an accomplished, respected and loved Special Forces Soldier that will never be forgotten. We ask that you keep his Family and teammates in your thoughts and prayers."
The Green Beret becomes the 17th U.S. combat fatalities in Afghanistan, one of the deadliest years in recent history in America's longest running war. In 2015, 10 American troops were killed; nine in 2016 and 11 in 2017.
In 2018, 13 out of the 15 service members killed were combat deaths, according to Defense Department casualty reports and iCasualties, an independent website that tracks the war dead from both Iraq and Afghanistan.
More than 2,400 U.S. service personnel have died in Afghanistan since the U.S.-led invasion began in 2001. On the Afghan side, the United Nations earlier this year said for the first time in a report that more Afghan civilians had been killed by international and Afghan forces than by the Taliban and other insurgents in the first half of 2019.
Last week, Trump called off a secret meeting scheduled to take place with Taliban leaders at Camp David, the traditional country getaway of American presidents, located in the wooded hills of Catoctin Mountain Park near Thurmont, Maryland.
The scuttled meeting could have potentially finalized months of negotiations between American officials and Taliban leaders in the Qatari capital of Doha. If signed, the arrangement would have seen the Pentagon pull more than 5,000 troops from Afghanistan ahead of the 2020 presidential elections. Zalmay Khalilzad, the U.S. special representative for Afghanistan's peace process, said the two parties had "reached an agreement in principle," ahead of the Camp David meeting.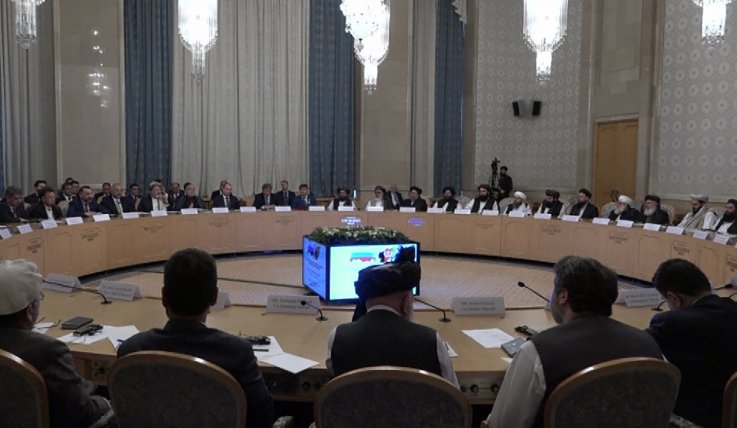 But Trump scrapped the secret meeting in a series of tweets after the Taliban claimed responsibility for a powerful car bomb that rocked the Kabul neighborhood of Shash Darak in Afghanistan. The attack killed Sergeant First Class Elis A. Barreto Ortiz of the U.S. Army and a Corporal Third-Class Ciprian-Stefan Polschi, a Romanian soldier operating on behalf of the NATO-led Resolute Support mission. Ten Afghan civilians were also killed in the blast.
The president told reporters he considers the peace talks with the Taliban "dead," but indicated he would still withdraw U.S. forces from Afghanistan. "Our soldiers are incredible, but they are serving as policemen, to a large extent," said Trump. "We would like to get out, but we will get out at the right time."
The withdrawal of U.S. forces from Afghanistan has prompted concern among U.S. military commanders and some members of Congress, who fear the country could return to conditions conducive for another September 11-style attack on the West. Those concerns have grown over the years as the Islamic State in Afghanistan, known as Islamic State Khorasan, has gained a foothold in the region while al-Qaeda remains resilient.
Secretary of State Mike Pompeo said in an interview that the United States had "delivered" on its mission to oust al-Qaeda from Afghanistan and that U.S. forces had been "successful" in achieving their original mission.
"If you go back and look at the days following 9/11, the objectives set out were pretty clear: to go defeat al-Qaeda, the group that had launched the attack on the United States of America from Afghanistan. And today, al-Qaeda … doesn't even amount to a shadow of its former self in Afghanistan," he told The Daily Signal, a news outlet affiliated with the conservative think tank Heritage Foundation. "We have delivered," Pompeo said.
At least four reports from the United Nations Security Council since July 2018 underscores the ongoing relationship between the Taliban and al-Qaeda.
The latest report from July said al-Qaeda "considers Afghanistan a continuing safe haven for its leadership, relying on its long-standing and strong relationship with the Taliban leadership. [Its] "members continue to function routinely as military and religious instructors for the Taliban."
The Trump administration is considering expanding the CIA's role in Afghanistan if the United States begins to withdraw. Trump has said he would leave "very strong intelligence" in the country.
Sohail Shaheen, a Taliban spokesman in Qatar, told CBS News they see no difference between ground forces and intelligence officials. The Taliban have longed held the position of wanting all foreign forces to pull out of the region.
After the peace deal fell apart, Trump tweeted, "Over the last four days, we have been hitting our Enemy harder than at any time in the last ten years." The statement echos former President Barack Obama's surge of U.S. forces into the region, with the tweet coming two days before the 18th anniversary of the September 11, 2001, terrorist attacks that began the U.S.-led invasion of Afghanistan.
Multiple Defense department sources have told Newsweek Trump's claim about hitting the Taliban harder than ever before is false.
Over the weekend, Moscow officials met with a Taliban delegation in Russia to discuss the possibility of a U.S. withdrawal from Afghanistan, Reuters reported.
"We are convinced that the complete end to foreign military presence is an inalienable condition of durable peace in Afghanistan," said Russian foreign ministry spokeswoman Maria Zakharova.
While it's unclear if or when when American and Taliban officials will resume negotiations, Russia urged both sides to restart the peace talks.
But as speculation over the country's future remains uncertain ahead of the Afghan elections next week, the only certainty at the moment seems to be continued violence throughout Afghanistan—and preparations for a funeral for a U.S. Army Green Beret in the United States.
Born on December 7, 1978 in Cristobal, Panama, Griffin enlisted into the U.S. Army back in April 2004. He became a paratrooper in the 82nd Airborne Division, the famed World War II unit, and later passed the Special Forces Qualification Course on September 18, 2014.
He served with 7th Special Forces Group (Airborne), and 3rd Battalion, 1st Special Forces Group (Airborne) out of Joint Base Lewis-McCord, Washington, according to a press release from U.S. Army Special Operations Command.
More than 2.7 million Americans have served in Afghanistan or Iraq since September 11, 2001—many deploying to both wars—and Griffin was no different.
Iraq 2006. Afghanistan 2009 and then again in 2016. He served in Korea on an overseas rotations in 2018 but by 2019, Griffin was back in Afghanistan on his fourth combat deployment.
Griffin was posthumously awarded the Purple Heart and the Bronze Star Medal—for the second time.
Update: 9/17, 9:12 a.m. EST: This article has been updated with information about the U.S. Army soldier killed in Afghanistan on Monday Sept. 16, 2019. The names of U.S. service members are withheld for 24 hours after their next of kin are notified, per Pentagon policy.
James LaPorta reports on national security and the Defense Department for Newsweek. He is a former U.S Marine infantryman and intelligence cell chief. You can follow him on Twitter @JimLaPorta